Hey peeps from the block. I hope you are all doing well. I am finally able to utilize the interweb to communicate to you all. We are in a bit of a down time, resting and relaxing, as we wait for team 2 to fly in. The first 2 weeks with team 1 was anything but short of awesome. I have met so many people and have done so many amazing things already. It is unbelievable to think that I have 4 more weeks to experience more amazing moments. It is hard to fully express what each of the experiences were like through a blog, but I will do my best.
We have gone to 4 orphanges, 3 schools, 4 churches, we have handed out Mosquito nets to help in the fight of malaria, I danced with a tribe of people in Pokot, we had 3 people from our team get baptized in a river, we attended church services on Mount Elgon where I shared my testimony, we spent 9 hours on a mountain in Narok when it was supposed to take 3 1/2 due to extremely muddy roads and having our 7 vehicles getting stuck, unstuck, and stuck over and over again. We finished the first 2 weeks off by going on a safari in the Masai Mara Game Reserve which is apart of the largest game reserve in the world and I believe is the largest amount of protected land in the world. During the migration period, there are more animals in one place than anywhere in the world. We got to see lions, elephants, giraffes, zebra, hippos, all kinds of birds, all kinds of deer-like animals, and the very elusive Leopard. I'm telling you, if you have never been to the Masai Mara, the best way I can describe it is that it is God smiling at you and then winking and saying, "as much beauty and magesty is surrounding you for hundres of square miles, you are more magestic and beautiful because you are my greatest creation and I love you." That is what I felt going through that safari.
Inspite of the amazing places we have been and the incredible people we have met, and that breathe-taking safari we were on, my favorite time here so far was an unplanned hang out session with kids outside of a church in the heart of Kitale called Deliverance Church. Inside the gates, people on our team were washing, feeding, and painting the nails of street kids. There was also a medical clinic and a showing of the Jesus Film going on. I decided I wanted to go outside the gates and hang out with the kids who couldn't make it inside. So, I grabbed one other guy, Ryan, and we went out. It was so amazing. My heart was just bursting with joy and love for these kids. I kept hearing God saying, "This is your passion. This is your heart beat. This is who I created you for." I had 6 kids hanging on each arms, kids hugging me, I was throwing them in the air. The only time these children get any physical touch is when someone is beating them up or abusing them. I have not been able to stop thinking about that time since it happen.
From these first 2 weeks, I am able to say with confidence, that whatever I do, wherever I am, I must work with Children. I don't know what this looks like and what it means, but I know it is so. I am very excited to see what else God shows me during these next 2 weeks. I love you all, miss you all, think about each of you daily. I pray that God is ever so present, ever so leading, and ever so in the midst of your life, today.
Please enjoy some of the pics I included below.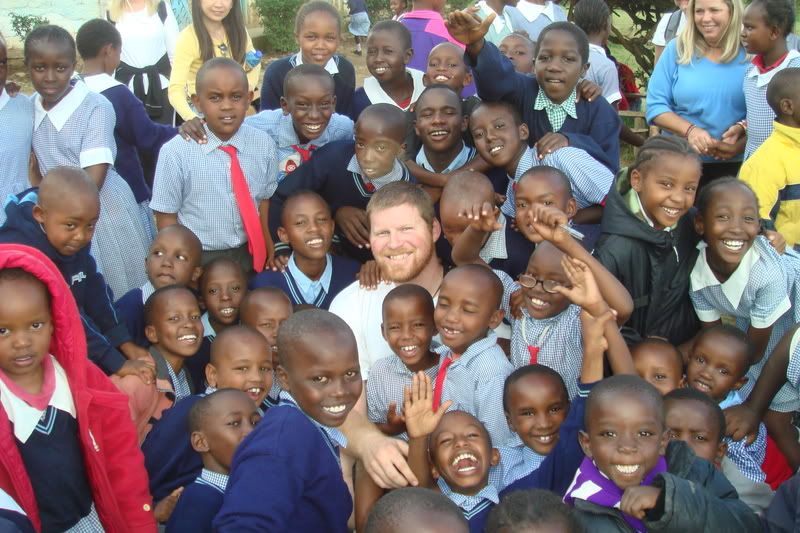 Sorry, Kenya internet is flippin slow so it is hard for me to post pics so this is all I can do for now. Enjoy!